This July saw the official launch of Fairtrade ANZ's engagement with the Business Partnerships Platform (BPP) in Samoa.
The program is the result of a partnership between Australia's Department of Foreign Affairs and Trade, Fairtrade ANZ, Krissy Company Ltd. (Krissy Co.) and Savai'i Coconut Farmers Association (SCFA) which aims to develop a new Fairtrade organic coconut cream product for Australian and New Zealand markets. This project aims to increase incomes for 200 smallholder coconut farming households on the rural island of Savai'i and create over 30 new jobs for local Samoans.
Fairtrade ANZ CEO Molly Harriss Olson explains, "by expanding our partnership with DFAT, we are able to deepen our support for Samoan coconut farmers, who in turn are building their partnerships and capacity in-country and expanding their reach in overseas markets".
Fairtrade ANZ has a long-standing relationship with Krissy Co. and SCFA. At present, Krissy Co. is the leading exporter of canned Fairtrade organic coconut cream from Samoa, purchasing all coconuts produced by SCFA on Fairtrade terms. The collaboration between these three organisations is centered on the shared value of improving livelihoods for smallholder farmers in the Pacific, and the desire to realise the potential of Samoan organic coconut cream in international markets. The launch was hosted during the Samoan Chamber of Commerce's monthly meeting and has set a strong foundation for the new initiative.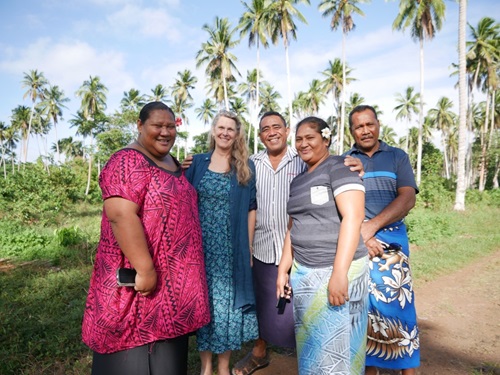 Fairtrade ANZ CEO, Molly Olson Harris, with SCFA President, Perise, and other SCFA members