Look out for the waving farmer on our tram!
The new Fairtrade tram has hit the tracks in Fairtrade Australia's home of Melbourne. We're hoping its beautiful blue design will  remind you of all of the good that is happening in the world despite the pandemic.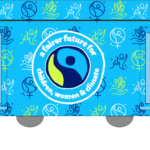 For children, women and climate
Choose fair
Fairtrade products are closer than you think. Celebrate the good still happening in the world by making a commitment to look for products featuring the Fairtrade mark (the green, black and blue waving farmer on your packaging) and be confident knowing you are helping support farmers around the world.
Find Fairtrade on the tram routes
Sally Capp, Lord Mayor of Melbourne, launches the Fairtrade tram
Learn About Fairtrade
What is Fairtrade and why should I care?
Behind products on the supermarket shelves and in stores are people: farmers, workers, families. Choose FAIR. Choose gender equality. Choose environmental protection. Choose equality. Support Fairtrade, change lives.
Fairtrade stories
Explore our inspiring stories to learn more about our global Fairtrade community and why Fairtrade matters.
All Stories