Licensee Digital Resources
Resources for Fairtrade licensees
Use these resources – social media posts, images and website information – to tell your customers who you are: a leader in sustainability, empowering farmers and workers, and meeting stringent social, economic and environmental standards.  
Up next:
TBC
Check back soon for more details on our next campaign.
Talking about Fairtrade, any time of year
Year round, you can use your digital platforms to tell your Fairtrade story and reach new audiences.  
We have put together an Evergreen Fairtrade Toolkit for you. It has everything you need to talk about the impact you are making by being Fairtrade certified.
Follow us for inspiration:
Tips for social media: 
"like" and "regram" our posts, and mention @FairtradeANZ in your own posts so we can engage with you.

 

Use the hashtag #ChooseFairtrade to join consumers and other businesses in the online conversation, connecting your social media activities with a wider global audience.

 

Create a giveaway, or contest to engage your followers. Sponsor a post to reach an even wider audience.

 

Encourage your followers to post their own images of your Fairtrade Certified products using #ChooseFairtrade and mention @FairtradeANZ. We will regularly select the best #ChooseFairtrade images and feature them on our own account.

 
Talking about Fairtrade on your website
Download our examples, and feel free to express in your own tone. 
2022 Marketing Calendar
Here is what we have planned for the year and key dates relevant to you, our Fairtrade licensees. 
Want to do an ad? Planning an event? Thinking of collaborating with like-minded businesses? 
We might people to help. If you stumble across something that you would like to partner with us on, please reach out to us at  info@fairtrade.com.au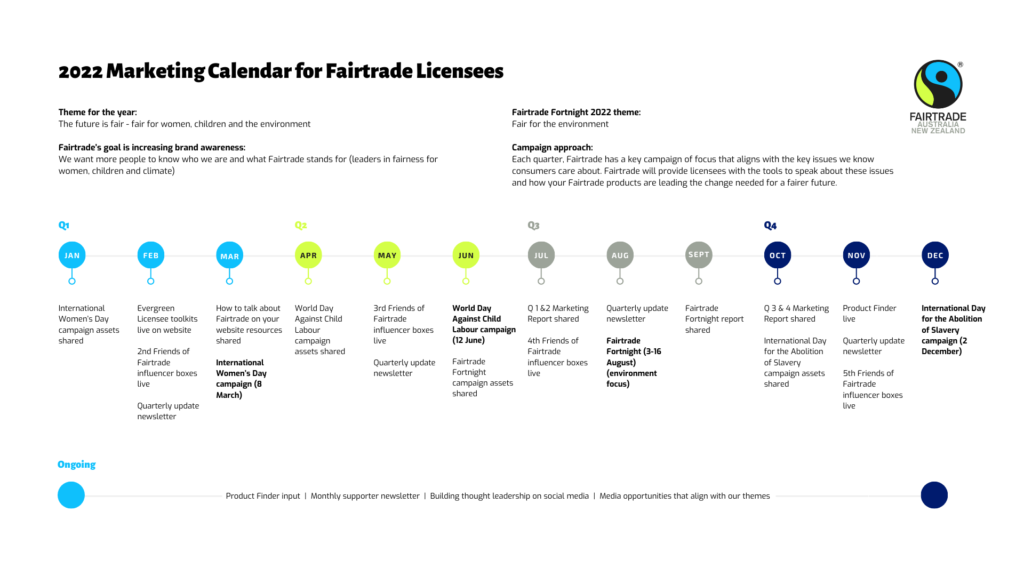 Download: 2022 Fairtrade Marketing Calendar